Paesaggi Irlandesi...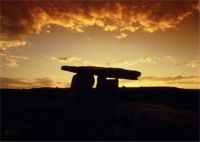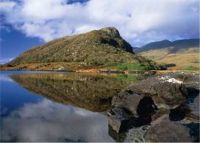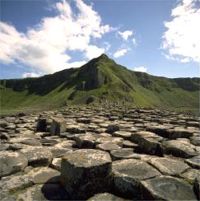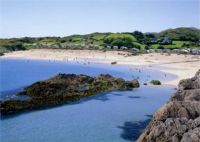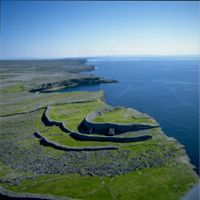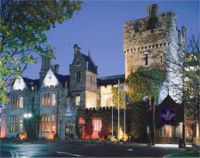 Clontarf Castle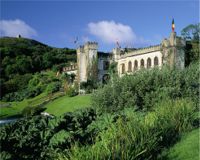 Abbeglen Castle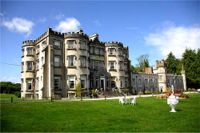 Ballyseede Castle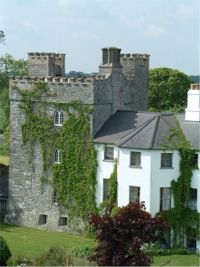 Barberstown Castle
Taste of Ireland, Irish Food Trail
7 Nights Pre-booked Irish Food Trail Self Drive Tour (Excluding Car)

Day 1: Dublin City
Welcome to Dublin. After you pick up your car, transfer to your city centre hotel.
In the afternoon you can explore this capital city with its many historic buildings, Georgian streets and colourful gardens. Take the opportunity to visit some of its many attractions such as the Christchurch Cathedral. You can also visit Trinity College Dublin where the visitor facilities include the Treasury which houses Book of Kells. This evening why not enjoy dinner in one of Dublin,s many restaurants? Overnight : Sandymount Hotel or similar

Day 2: Malahide Castle & the Boyne Valley (125km)
This tour takes you through Dublin"s city centre and out across the North City where you can enjoy the magnificent views of Dublin Bay to the 14th century Castle at Malahide, set in magnificent gardens, is furnished with the finest Irish period furniture and contains famous portrait paintings from the National Art Gallery. Continue to the award-winning village of Malahide. Leave Malahide and head northward towards the River Boyne, which flows through the counties of Meath and Louth (north from Dublin) and has long been a pivotal setting in Irish history. Follow the flow of the river between Slane and Drogheda. The banks are lined with landmarks from almost every phase of Ireland's past - from the prehistoric passage tombs at Newgrange, to the legendary Hill of Tara, seat of the Irish High Kings as well as monuments from the early days of Christianity. A visit to the Hill of Tara and Bru na Boinne including a visit to either Newgrange or Knowth burial passages, which were built between 3,500BC and 2,700BC and was used as a tomb in which Stone Age men buried their dead is
strongly recommended. This evening why not enjoy dinner in one of Dublin's many restaurants. Overnight : Sandymount Hotel or similar

Day 3: Rock of Cashel & Kinsale (285km)
This morning, you travel south from Dublin City for Cork. Visit the Rock of Cashel, which rises dramatically from the flat countryside. This site has the best set of varied monuments in any Irish site. The rock is crowned by a group of buildings, both ecclesiastical and royal, including a round tower, a 13th century Romanesque chapel and the beautifully restored Hall of the Vicar Choral. Continue through the Golden Vale region of Ireland, famous for its butter, cheeses and dairy products and onto the picturesque fishing town of Kinsale, known as the "Gourmet Capital of Ireland". This evening why not enjoy dinner in one of the many restaurants in Kinsale. Overnight: Trident Hotel, Kinsale or similar.

Day 4: Kinsale & Cork City (60km)
This morning, take some time to explore Kinsale –make a few visits including Desmond Castle and Wine Museum. Built as a
custom house by the Earl of Desmond in circa 1500, Desmond Castle has had a colourful history. Before completing your tour of Kinsale, a visit to Charles Fort just outside the town is a must. Constructed in the late 17th Century, Charles Fort is a classic example of a star-shaped fort. In the afternoon, travel to Cork City,where much of the medieval core of the city is still intact today and the colourful and dramatic past is reflected in its streets,architecture and port. Visit St Ann's Shandon which was erected in 1722 and is one of the city's best known landmarks and features the famous Shandon Bells which visitors may ring. There is also a wonderful view of the city from the top. Continue on to the Cork Butter Museum which dominated the world butter trade in the 18th and 19th centuries and the museum explores the development of the exchange and the history of dairying in Ireland. Return to Kinsale where once again you can sample one of the many local restaurants for dinner. Overnight: Trident Hotel, Kinsale or similar.

Day 5: Cobh, Ballymaloe House & Old Midleton Distillery (155km)
Today, why not travel east of Cork city to Cobh where you can visit the Queenstown Story
at Cobh Heritage Centre. This dramatic exhibition tells of the origins, history and legacy of Cobh,a unique Irish port town, which recalls the many historic events associated with the town. From 1845 to 1960 over 2.5 million adults and children emigrated from Ireland via Cobh on coffin ships, early steamers and finally on the Great Ocean Liners. Cobh was also the last port visited by the ill-fated Titanic. Leave Cobh and travel the short distance to Shanagarry and stop at Ballymaloe Gardens which surrounds Ballymaloe Cookery School and the Garden Café, which is run by TV chef Darina and Tim Allen and includes a Herb Garden, formal Fruit Garden, a formal Vegetable Garden and Water Garden. Why not enjoy lunch at Ballymaloe House?
Return to Kinsale passing through Midleton where you can visit the Old Midleton Distillery and learn about the story of Irish whisky through an audio-visual presentation; then follow the old distillery trail though mills, maltings, corn stores, stillhouses, warehouses and kilns. After the tour of the Distillery, you will have the opportunity to taste this world famous.Return to Kinsale where once again you can sample one of the many local restaurants for dinner.
Overnight: Trident Hotel, Kinsale or similar

Day 6: Waterford Crystal & Wicklow (275km)
You depart Kinsale this morning and travel eastwards along the southern coastline. Arriving in Waterford, you will receive a warm welcome to Waterford Crystal. The Waterford experience is unique in theat you are visiting a real working, living, breathing factory. A thin yellow line is all that separates you from the craftsmen. Leaving Waterford we travel along the east coast through Enniscorthy and Gorey before arriving Ashford and on to Ballyknocken Country House & Cookery School for overnight. Ballyknocken House is a charming Victorian farmhouse operating as a 4**** guesthouse.Run by Catherine, the third generation Byrne to reside there, the house has won many awards including the recent Jameson Georgina Campbell Farmhouse of the Year 2004; AA 4 RED stars 2005/6, Bridgestone 100 Best Places to Stay in Ireland 2003. Catherine's warm welcome and Irish hospitality has seen her nominated as the AA Landlady of the Year, Great Britain and Ireland 2005. Catherine also runs Ballyknocken Cookery School and entertains with Brown Bread Making Demonstrations and Cookery Courses. Overnight: Ballyknocken Country House & Cookery School.

Day 7: Wicklow Tour or Ballyknocken Cookery School(135km)
Today (and subject to availability) you may have the opportunity to participate in a class at the cookery school (not included in the price).Alternatively you can use Ballyknocken House as a base to explore Wicklow, known as the Garden of Ireland. Travelling through the scenic Wicklow Mountains, you arrive in Glendalough,in the heart of Wicklow and a well known beauty spot of Ireland. Visit the 6th century monastic settlement with the ruins of seven churches and a round tower.
The Visitor Centre explains the history of the region and the monastery. Travel to Blessington, to Russborough House, one of Ireland"s finest houses which is open to the public. Built between 1740 and 1750 in the Palladian style, the House is beautifully maintained and contains paintings from the Beit Collection, fine furniture, tapestries, carpets, porcelain and silver. Continue on to Enniskerry and visit Powerscourt House and Gardens. Here you will be able to stroll around the 45 acre garden which includes formal gardens, sweeping terraces, statuary and ornamental lakes which have over 200 variations of trees and shrubs. You will also have an opportunity to visit the restored 18th century house,which was destroyed by fire in 1974. Return to Ballyknocken Country House for overnight. Why not sample some of Catherine Byrne"s cooking at dinner this evening in Ballyknocken. Overnight: Ballyknocken Country House & Cookery School

Day 8: Depart from Dublin Airport (80km)
Departure from Dublin Airport.